Our Team and Board of Directors
Toby Mogavero is Source One Serenity's Environmental Specialist. He is a post-9/11 combat veteran.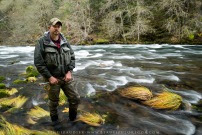 Rusty Lininger is Founder, President, and Program Lead of Source One Serenity. Until June of 2016, Rusty worked as a campground manager for U.S. Army Outdoor Recreation in Germany. During that time, he established and taught fly tying and casting clinics at Landstuhl Regional Medical Center for PTSD patients. He also started a fly fishing program at Outdoor Recreation. In 2010 Rusty helped WWP start and facilitate their Project Odyssey in Europe. Most recently he has played an integral part in establishing the first Project Healing Waters Fly Fishing chapter in Europe.
Rusty has over eight years in the U.S. Army Infantry. During his time of service, he was deployed two and one-half years to Iraq and one year at the DMZ, Republic of Korea. While deployed to Iraq, he was attached to 5th Special Forces Group to help train, advise, and lead one of the first Iraqi Commando Units. Rusty was also given the responsibility of selecting, training, and leading indigenous Iraqi forces in sniper/counterterrorist operations south of Baghdad, Iraq. During both deployments to Iraq, Rusty was also tasked as a sniper/team leader, resulting in countless successful missions in what was considered some of Iraq's most deadly areas.
Combining his military experience with his love for the outdoors, Rusty has been able to see firsthand the healing powers of nature, especially fly fishing. His passion is to share this magic with others and to use his leadership talents to do so, because a gift isn't a gift unless it's shared.
Tony Griffin is Board Director of Source One Serenity. He is an Attorney at Law in Roseburg and grew up here. After high school, Tony joined the U.S. Navy, where he maintained naval nuclear reactors for nine years. He served on two Los Angeles class submarines stationed at Pearl Harbor, and was also certified as a navy scuba diver. Tony received his law degree in Albany, New York, and then returned to Roseburg and founded TK Law, LLC. He is part of a Star Wars club, and is a board member of Shriners International.
Elena Lininger is co-founder and Board Secretary of Source One Serenity. Prior to this new endeavor, she worked in sales and customer service at the international company, Parts Europe in Germany. Elena received her Bachelor of Business Administration in International Business at Østfold University College in Norway, and a German diploma in Environmental Business Administration at the Trier University of Applied Sciences. Elena speaks four languages: English, Russian, German, and Norwegian. She has contributed her linguistic and administrative skills to international charity organizations with programs for children in the Chernobyl territory.
While being a part of the largest U.S. military community in Germany with her husband, Elena saw the harsh impact of combat, not only on him, but on many other soldiers and their families. The effects of wars were already familiar to her because her grandparents fought the Nazi occupation of Belarus, Elena's original home. These experiences made her aware of the need to treat the health issues of veterans.
Sam Gross is Board Director of Source One Serenity. Sam is a serial entrepreneur and CEO of a mobile marketing app called KlubHub; COO of a sauce company called Chef Mel's; owner of two restaurants called Loggers Tap House and Loggers Pizza in Roseburg; business advisor at the Umpqua Small Business Development Center; and is currently working on initiating a startup accelerator to connect new businesses with training, mentorship, and access to investors.
Sam spent fourteen years in the U.S. Army, starting off as a private in the infantry and ending as a quartermaster captain. His undergraduate business degree focused in entrepreneurship and was earned at the University of Oregon. He earned his Master's in Business Administration from Babson College, the number-one school in the world for entrepreneurship. Sam also holds a graduate certificate in Public and Non-Profit Leadership from Chapman University.
Benjamin David Hanks is Board Director of Source One Serenity.  He is currently a junior at Willamette University, Salem, Oregon, where he is seeking a degree in psychology. He is a 100% service-connected disabled veteran after extensive traumatic combat experiences in Iraq. Due to his leadership skills, Ben was selected as a sergeant and machine gun team leader for the U.S. Army Infantry. In 2015 he received an Associate Degree in Social Science from Shasta College, Redding, CA.
While learning to survive traveling the roads in California and Oregon as a hiker and bicyclist, he spent many days as an independent garbage man removing trash from our freshwater and road systems. Ben has volunteered with Habitat for Humanities, local elder homecare, and as a Baptist Christian Church laborer. An avid fisherman all his life, he has strived to balance his love for landing fish and his commitment to promoting natural freshwater systems. Ben has worked hard to help maintain independent freshwater systems through education and proper care.
Combining his survivalist spirit with a strong desire to help others suffering from PTSD will provide Source One Serenity with some great personal experience, and will help achieve the overall goal of reduced suffering through a healthy, mutualistic relationship with nature.
Paul C. Eckel is Board Director of Source One Serenity. You will hear him speak with deep conviction about what he defines as the "liquid kingdom."  Paul's social media alter ego is the "river warrior family," and he finds peace and harmony in the raging waters of the North Umpqua River with his four beautiful children.  When Paul is not on the river, he owns and operates Steadfast, an injury recovery and human performance small business.  Paul served nine and one-half years in the U.S. Army and spent four years in diplomatic and personal protection for a variety of private military companies. With fifteen deployments (910 days on the ground), Paul understands the pain of loss and the need for connection.  He believes the rivers of Oregon provide the spiritual and physical refreshment that can nurture and heal the veteran community.